Congressional Dyslexia Roundtable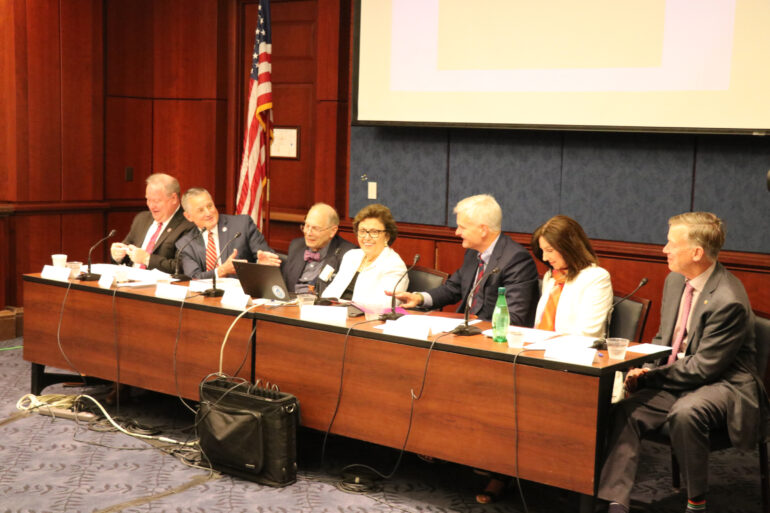 Excited, we have unusually positive news to share about science, dyslexia and legislation. Far too often there is much disappointment when we think of science and education together. And here we are happy to share with you positive views regarding dyslexia.
We were honored to present the keynote address at the recent Congressional Dyslexia Roundtable supporting the 21st Century Dyslexia Act. We emphasized that given dyslexia's scientific validity and high prevalence together with its harsh impact when it is not identified early, dyslexia should and must be in its own category. Schools can and must screen and identify dyslexic students early. Given the inaccurate negativities surrounding the condition, a dyslexic student should know their diagnosis early and know that they are smart.
Our nation is in the midst of a nightmare where substantial numbers of children, bright children,  are not learning to read with severe consequences to the child, the family and our nation. Today increasing scientific evidence strongly points to dyslexia as an explanation and also as a potential solution to our education crisis.
To summarize, accumulating scientific evidence (reviewed in Overcoming Dyslexia, 2nd edition by Dr. Sally Shaywitz and highly regarded psychiatrist Dr. Jonathan Shaywitz) strongly indicates that dyslexia deserves its own category. From its origins dyslexia has always been an unexpected difficulty in reading. For example, the children's clinical picture in the first description of dyslexia by British physician W. Pringle Morgan in 1896 is the same as we see in 2022 in children with dyslexia. This scientific evidence has already been used to construct a new scientific definition of dyslexia: "an unexpected difficulty in reading for an individual who has the intelligence to be a much better reader…" (PL 115-391, 2018). Furthermore there is strong scientific validation of the unexpected nature of dyslexia from our own CLS data. These data (Psychological Science, 2010) indicate that in typical readers IQ and reading are linked—if you are intelligent you are a good reader and if you are a good reader you are intelligent. In contrast, in dyslexic readers IQ and reading diverge—you can be very smart and yet not be able to read very well.
This 21st century definition of dyslexia as unexpected is very important. It establishes that as a dyslexic you can be very bright and yet read slowly. In addition, the unexpected definition means that you do not have to score below a certain level of reading to be diagnosed as dyslexic. It's how you go about reading – the manner in which you read; how long it takes you to read.  
The scientific evidence for dyslexia to be in its own category within education law encompasses dyslexia's epidemiology, its cognitive and neurobiological basis as well as the availability of evidence-based screening. An additional benefit of having dyslexia in its own category encourages all stakeholders (e.g., teachers, clinicians, scientists, and parents and children with dyslexia themselves) to use the same evidence-based definition, screening and interventions. For the children with dyslexia it will encourage and provide them a community to join. In addition, it provides children a renewed self-awareness, to know they are not alone and not isolated.
This ground-breaking Congressional Dyslexia Roundtable was initiated and brought to fruition by the hard work of Senator Bill Cassidy and his staff. We also want to acknowledge the contributions of Senator John Hickenlooper, Representative Larry Bucshon and Representative Bruce Westerman for their personal insights and observations and commitment to moving forward on the science of dyslexia.
Scroll to Top